Influencer marketing is one of the quickest ways for businesses to establish and propagate in a competitive market. It allows brands to build their identity and acquire customer trust as renowned influencers from social media, print media, sports, and niche experts market the products or services for them.
Influencer marketing can be a game changer in attracting the masses towards a new brand or business, especially in a highly competitive market like India, which has more than 465 million social media users. 
Understandably, with the influence of digital transformation, many agencies and companies have stepped into the field of influencer marketing, helping businesses achieve their goals. 
The potential of the influencer marketing industry in India is incomparably high. The industry is estimated to reach a value of INR 2,200 crores by 2025, with an expected rise of nearly 2.5 times its value in 2021. 
As influencer marketing agencies have the power to reach the common masses like no other medium, these agencies earn handsome revenues by connecting brands with the right influencers for marketing. And the agencies that have the largest networks of celebrities, influencers, and renowned public figures tend to rule the roost in this competitive market.
The Best Influencer Marketing Agency in India
While the competition between the top influencer marketing agencies in India is incredibly competitive, it's not all that simple for these agencies to stay at the top unless they keep providing the top services to their clients. 
So, as these agencies keep up the quality of services, they continue to enjoy collaborations with the country's top local and global brands. 
But to understand which agency rules the market in India, we will focus on one name that stands out in the influencer marketing industry. We will look at some helpful company details and the attributes that make this company stand out. 
BuzzFame – The Influencer Marketing Leader in India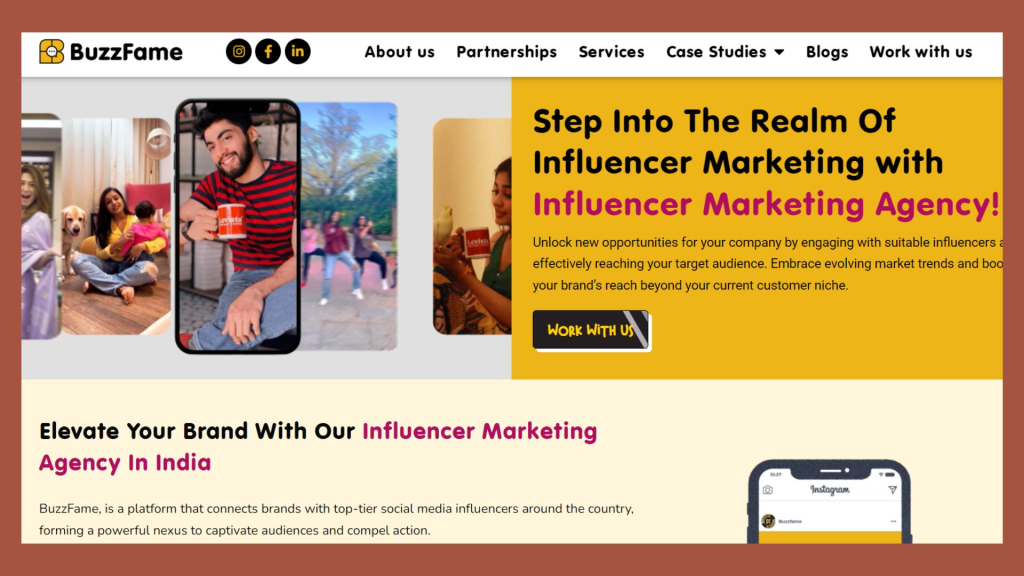 BuzzFame is an influencer marketing agency founded by Sorav Jain. Sorav is an entrepreneur, digital marketing expert, creative writer, speaker, author, and trainer. BuzzFame is a versatile brainchild of Sorav that provides customized influencer marketing services to its clients. 
Extensive Reach in Various Indian Audiences
BuzzFame has helped more than 100 brands to achieve their marketing goals. Over the years, the company has reached over 50 million with a 10 times engagement rate. 
The company is a subsidiary of echoVME Digital, which is one of the reasons for its incredible exponential growth.
Diversified Influencer Pool
One of the critical attributes of a successful influencer marketing company in India is its ability to connect with the right influencers for a specific brand. India is a multicultural setting, so brands need to be smart enough to identify the right person to address the needs of a specific market. 
This is where BuzzFame has excelled, connecting with over 1000 influencers from various industry sectors. 
The diversified pool of influencers allows brands to create tailored marketing campaigns. Moreover, these influencers specialize in various social media platforms, giving brands numerous choices to engage with the right audience. 
Top Clients
Since its establishment, BuzzFame has worked with renowned local and global brands in India. Some of the prominent clients for BuzzFame include G Square Group, Oh! Mama, Olivia, Levisa, Casagrand, Credai, VeCura, Digital Scholar, Vooki, Nippo, Dorco, The Chennai Mobiles, Poorvika, Quiclo, and many others. 
The nature of brands is quite versatile, indicating the flexibility and customizable marketing solutions that allow the agency to tap into various markets with the right influencers. 
Conclusion
BuzzFame provides a soothing combination of diversity and quality to help businesses grow. Do you wish to connect with BuzzFame for your next marketing project? 
Let me know in the comments what you think about India's best influencer marketing company.