Influencer marketing has emerged as a pivotal path forward in the business world. Through influencers, brands can effectively disseminate their messages to expansive audiences, accelerating growth and advancement. 
For the Indian market. Influencer marketing stands as a paramount tool for business promotion. Given the vast multitude of online and social media users, coupled with the presence of eminent celebrities, influencer marketing's dominion over India's marketing panorama still needs to be challenged.
This reality prompts marketing agencies to approach prominent figures across various domains, enabling their clients to promote their offerings to precise and targeted segments. 
While several social media influencers have hefty net worths, business owners prefer influencer marketing agencies in India. 
Familiarity with these top-tier companies facilitates the discovery of an apt platform for broadcasting brand messages to the desired demographic.
This article will explore a selection of India's preeminent influencer marketing firms, aiding you in selecting the optimal avenue for your brand's communication.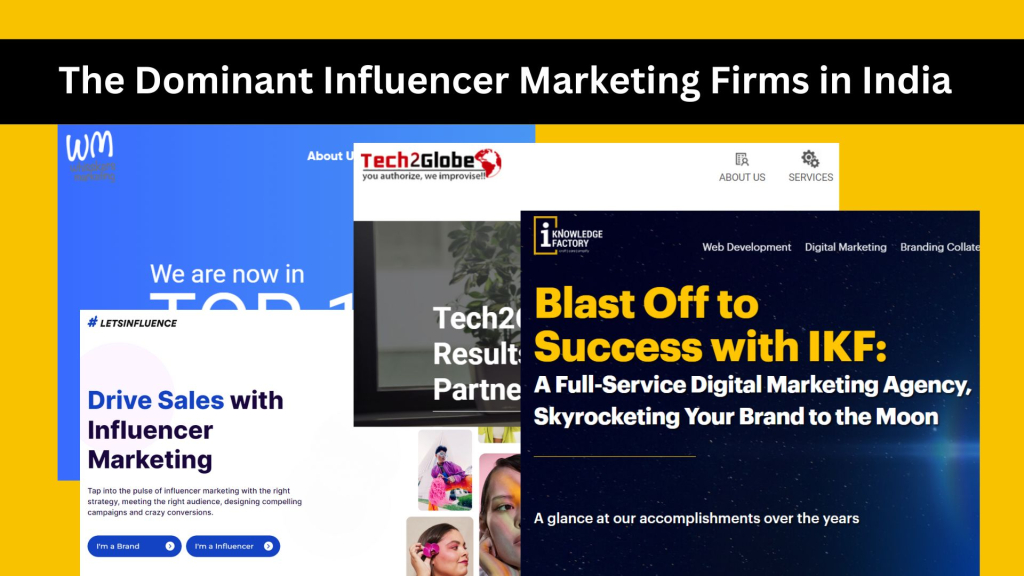 Whisskers Marketing 
Whisskers Marketing is a renowned influencer marketing company in India that's good at using social media. The company connects local brands with mini social media stars with a substantial social media presence. Typically, these are bloggers, creators, vloggers, moms, and more.
Whisskers Marketing helps different businesses, from minor to significant, in different industries like lifestyle, food, education, and healthcare. 
The company focuses on linking brands and influencers, having a unique process for working with these influencers. The company creates creative ideas for marketing campaigns, creates engaging content, and uses a tool to find the best influencers for each brand. 
In the past, Whisskers Marketing has worked with companies like VakilSearch, McCANN, Opera, Meena Bazaar, FreshGravity, Great Learning, Organic Harvest, and The Princeton Review.
I Knowledge Factory 
I Knowledge Factory (IKF) has nearly twenty years of expertise. The company has assisted over 850 brands in real estate, hospitality, finance, education, and healthcare. 
In the ongoing discussion of paid ads versus influencer marketing, this agency takes the side of influencer marketing, believing it's more powerful.
Therefore, they focus on creating genuine and impactful campaigns with content creators for their clients. Their services include finding and reaching out to creators, building solid relationships, developing campaign strategies, and making them happen.
‍Some of their clients include TitanX, IndiGrid, Mahindra Systech, Peppermint, Cloud Moyo, Vega, Breathmo, Lupin, and Mother's Recipe.
LetsInfluence‍
LetsInfluence boasts a vast network of over 25,000 top influencers and 500+ celebrities. To meet the campaign goals set by the client, the agency delves into thorough research of creators' audiences, engagement rates, and past campaigns.
Starting from scratch, the agency crafts your campaign by intensely studying your industry and target audience, resulting in unique and relatable content. They also handle the coordination between your brand and the influencers, manage payments, and provide performance reports.
This Indian influencer marketing agency also plays a role in fostering the growth of influencers and content creators. It provides valuable insights to help them better monetize their services.
‍Some brands they've worked with include Snapdeal, Mamaearth, TrulyMadly, Titan, Boat, Emami, Meesho, Noise, Pee Buddy, OYO, and Cosco.
Tech2Globe 
Tech2Globe agency views influencer marketing as a form of creative expression, not just a way to get attention. The company teams up with experienced influencers, giving them the freedom to create authentic and genuine content, which boosts how much people trust a brand on social media.
This influencer marketing agency based in India knows many creators in areas like B2B (business-to-business), eCommerce (online shopping), education, healthcare, and travel. It also takes care of planning, matching creators with brands, managing campaigns, and even handling ads on social media.
It dives deep into your business, from learning about your audience to checking out what your competitors are up to and what strategies you're already using. This helps them ensure that when they team you up with an influencer, it's a match made in marketing heaven.
Some cool brands they've worked with include Tulimed, Magic Opener, Hopwater, Telia Oils, Green Yi, TasteeTreasures, and Midwest Jewellery.
Conclusion
The debate for the best influencer marketing company in India can be extended, as so many renowned names provide high-quality services to local and international clients. That said, it's about working with an individual who understands how things can work out for your business. And they don't necessarily belong to the above list.
If you want to grow your business beyond boundaries, I can help. Let me know and we'll sort things out together.