As influencer marketing continues to rise in India, the number of influencer marketing agencies continue to grow substantially across the country. Most of these successful companies uphold high quality and standards of customer services, creative content generation, exceptional management and delivery of results.
That's why, the competition to become the best influencer marketing company in India is always tough and only the top quality companies thrive in such rigorous competition. 
Whether it's about engaging with audiences, providing tailored content and effective influencers, generating the right content and partnering with the right businesses, the best influencer marketing agencies in India make sure they excel in each of these areas to sustain their position in the market.
But when it comes to picking the sole owner of the throne, there is one influencer marketing agency that ticks all the boxes and has a proven track record for its excellence for many years.
In this post, we will look at the most successful influencer marketing company in India and what makes it the leader in this highly competitive industry. 
Confluencr – The Leading Influencer Marketing Company in India
Confluencr is a Mumbai-based influencer marketing agency. Here is what makes the company so unique.
Catalyzing Brands through Strategic Influence
Confluencr focuses on creating precise campaigns that resonate for both Indian and global brands. Over the years, the company has worked with some of the most renowned brands across diverse sectors like eCommerce, healthcare, wellness, and education.
Some of the top names that worked with Confluencr include Paytm, Kotak, Pet Fed, Flipkart, Ola Foods, WOW Skin Science, Dabur, Vatika, Upstox Century Ply, and many others.
Considering that these are all quite diverse company niches, it indicates how Confluencr has captured different markets with its creative and intriguing ideas and customer services. 
Multilingual Influencer Marketing to Mobilize Niche Audiences
Confluencr isn't just about India, it's about connecting globally. The company has established a network of over 15,000 influencers who create content in various languages, including Tamil, Hindi, Bengali, Telugu, and more. 
This linguistic versatility ensures messages allow the client businesses to go beyond boundaries and connect with the targeted audiences more effectively. Given that India has the largest social media audience on many platforms, multilingual influencer marketing makes it more convenient for brands to find the right audience for their products.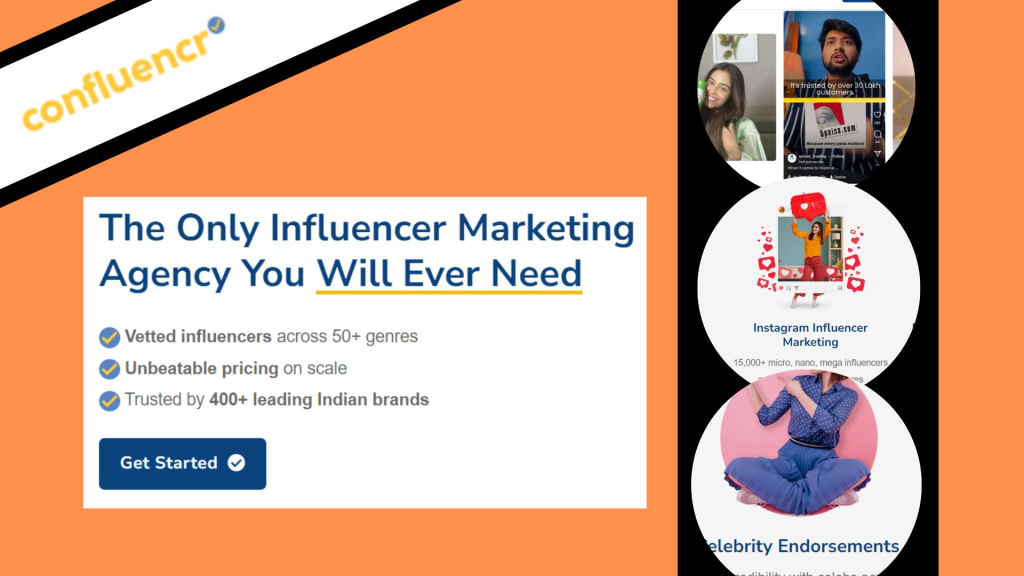 Comprehensive Services for Maximum Impact
From ideation to execution, Confluencr makes sure that it guides its brands through every phase of the marketing campaign. The offered services include
Content mapping

Influencer curation

Content delivery
More importantly, all phases are data driven and backed by comprehensive reporting and analytics. 
And to further strengthen the marketing impact, it ensures that the most popular celebrities, athletes, comedians, musicians and professionals from various fields are on board. 
That's why celebrities also make the most of such opportunities, making a handsome revenue by collaborating with such high profile companies.
Specializing in Instagram and YouTube Marketing
While Confluencr works with most platforms, it is specially more focused on YouTube and Instagram. It has expert influencers for such platforms that can enhance brand visibility and ensure higher conversion rates for their client businesses. 
Conclusion
Confluencr has been a leading influencer marketing agency in India for a long time. With some top names as its clients, the company maintains a health rapporteur ensuring that it stays at the top. 
Do you wish to connect with Confluencr for your future marketing campaigns? Tell us what intrigues you the most about this company.