Influencer marketing is the way forward for most businesses. Since the influencers can propagate the brand message to larger audiences, it ultimately helps businesses propel faster and grow at a better rate.
For a country like India, influencer marketing is the most critical tool for business marketing. With millions of online and social media account holders and some of the finest celebrities on the show, influencer marketing in India will continue to dominate the marketing landscape.
That's why marketing agencies approach the most popular personnel from various fields, helping their clients market their products to niche and targeted audiences.
Which are the top influencer marketing agencies in India? Especially if you're a business owner, knowing the best influencer marketing companies can help you find a suitable medium to propagate your brand message to your desired audience.
In this post, we will look at some of India's top influencer marketing companies to help you pick the right option for your brand. 
Top Influencer Marketing Companies in India
Here is the list of the best marketing agencies in India.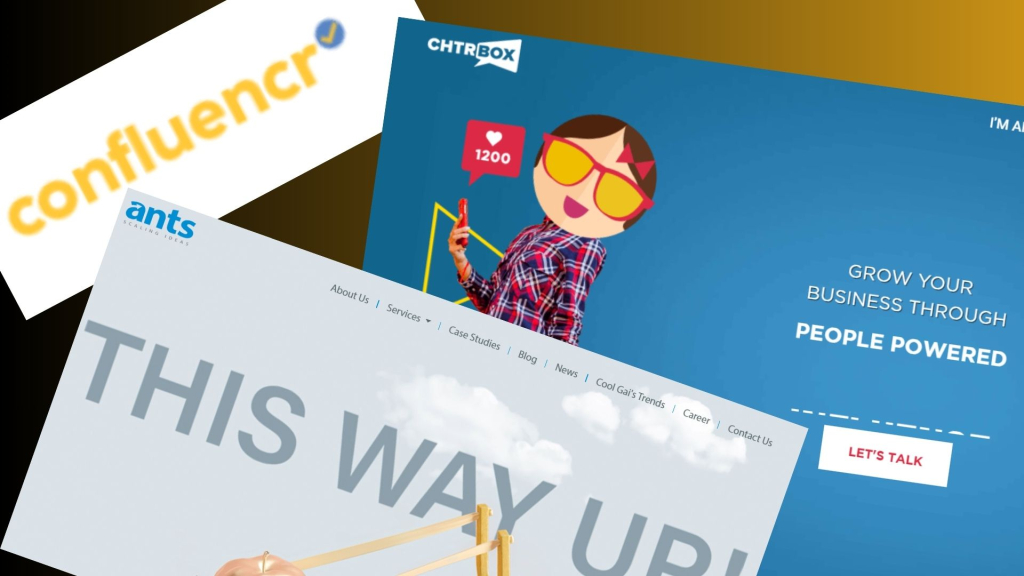 Confluencr
Confluence is a Mumbai-based influencer marketing agency that drives campaigns for local and global brands. It specializes in eCommerce, healthcare, education, and wellness. The agency has a network of more than 15000 influencers with expertise in multiple languages like Hindi, Telugu, Bengali, and Tamil. 
The agency offers content mapping, curation, delivery, analytics services, and Instagram and YouTube influencer marketing services. Till now, Confluence has worked with top names in India, such as Paytm, Masai, WOW Skin Science, Flipkart, Groww, Ola Foods, and Pet Fed. 
The company also works on celebrity collaborations featuring comedians, musicians, actors, etc. 
Chtrbox
Chtrbox works for regional brands that target specific audiences through social media campaigns. It has a network of influencers, bloggers, and product ambassadors in various categories, making it one of India's best influencer marketing companies. 
The company has already won awards for its campaigns. It provides tailored ROI-based dashboards for its clients to visualize performance, reporting, and analytics. 
Chtrbox has worked with some of the biggest names in the industry, like Vogue, Tropicana, Tinder, Pepsico, Puma, Nokia, Flipkart, Hike Messenger, Livon, Whisper, etc.
ANTS Digital
ANTS has a vast network of influencers in fashion, beauty, travel, parenting, and health. It claims to be India's biggest influencer marketing agency, as it partners with the most popular regional talents, leaders, and bloggers. 
ANTS is a highly tech-oriented company that runs on data-driven analytics. It has a six-step process that has helped the company to serve popular brands like Kleen Skin, Eden, Jain Farm Fresh, Ejot, GroupM, HQ, and Concentrix. 
In addition to influencer marketing, ANTS Digital offers branding, digital marketing, public relations, and digital marketing services. 
Third Eye Blind
Third Eye Blind Productions manages influencer marketing campaigns. It works on audience research, campaign creation, reporting, and insights. The Mumbai-based company strives to create tailored campaigns by reaching out to social media creators, models, and ambassadors to propagate brand messages. 
Third Eye Blind has worked with brands like Mamaearth, Vauld, Maybelline, Urban Company, and Angel One. 
Conclusion
The top influencer marketing companies in India have the widest influencer networks, as their service spectrum is quite wide, too. What makes an influencer marketing company flourish? 
Would you consider the names in this post for your next marketing campaign? Tell us in the comment section.