Are you an aspiring actor with dreams of making it big on digital platforms like YouTube, Facebook, and Instagram?
Do you want to learn acting techniques that will help you captivate audiences and monetize your talent? Look no further! Avant Theatre presents a unique opportunity for students and aspiring actors to unleash their hidden talent and master acting through an exclusive workshop in Singapore.
A Gateway to Success-
Starting a career on digital platforms can be daunting, especially without professional guidance. That's why this acting workshop is designed to provide you with the necessary skills to kickstart your journey as a successful actor. Whether you're a student or an adult, this masterclass is catered for all and conducted bilingually to ensure maximum engagement.
Learn from the Masters-
At Avant Theatre's Masterclass in Acting, you'll be guided by renowned media and theatre practitioners who have made their mark in the industry.
The workshop will be facilitated by the experienced trio of G Selva, N Pura, and S Karthik. They will share their expertise, provide valuable insights, and help you refine your acting skills.
Insights from Industry Professionals-
In addition to the talented facilitators, actors and directors from the industry will also join the workshop to share their experiences and offer valuable tips to help you excel in the acting industry. This is an incredible opportunity to learn directly from those who have succeeded and gain invaluable knowledge to enhance your performance.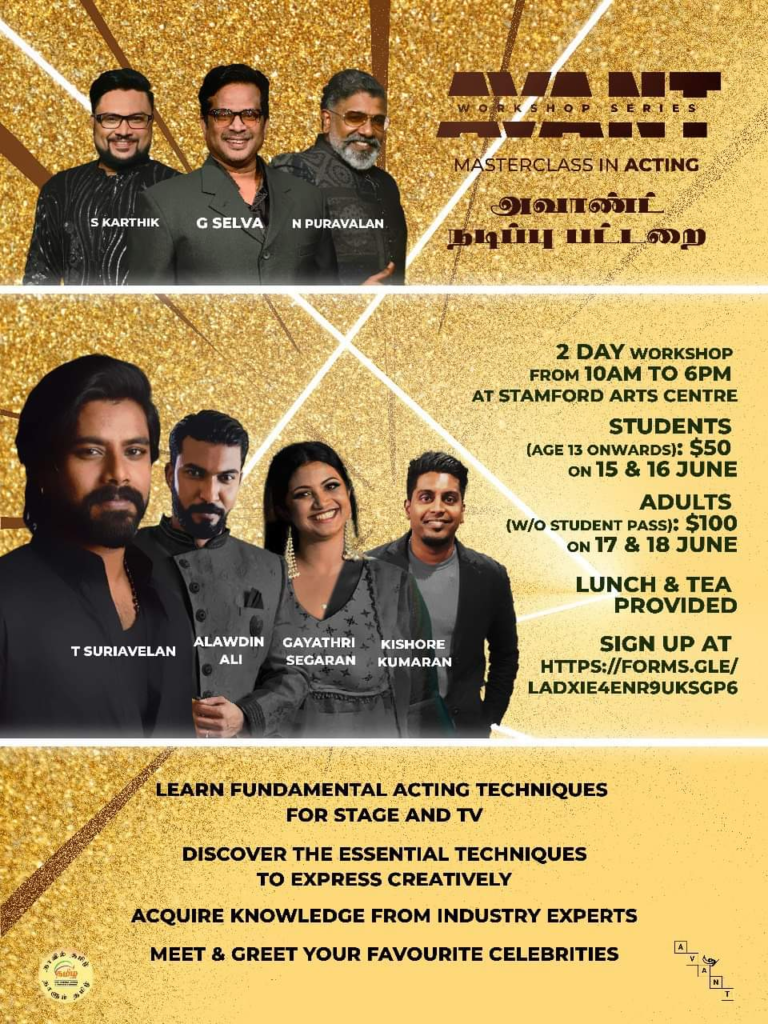 Workshop Details-
The workshop will span two exciting days filled with fun and engaging activities. For students, the workshop will take place on the 15th and 16th of June 2023, from 10 am to 6 pm. The course fee is just $50 and includes lunch and tea to energize you throughout the day.
For adults passionate about acting, the workshop will be held on the 17th and 18th of June, 2023, following the same schedule as the student category. The adult course fee is $100, including lunch and tea.
Venue and Registration-
The workshop will be held at Stamford Arts Centre near Bugis MRT and opposite Sri Krishnan Temple. To secure your spot, visit the registration link here. Hurry and sign up now before all the slots are taken!
Avant Theatre: Pioneers of Innovation-
Avant Theatre is a Singapore-based performing arts company producing and presenting works in English and Tamil since 2011. Committed to creating innovative and thought-provoking theatre, Avant Theatre is dedicated to nurturing talent and fostering creativity in the acting community.
Meet the Talented Instructors-
During this workshop, you'll have the opportunity to learn from esteemed professionals in the industry:
Aladdin Ali:

A talented Tamil actor known for his roles in popular TV series such as Naam, Mitara, and Avathaaram.
T. Suriavelan:

is a versatile director, writer, and actor in Singapore. He is known for his work in the Tamil film Joe: The Black Assassin and the Mediacorp series Avathaaram S1, Mitara, and Naam.
Gayathri Segaran:

A multi-talented individual who excels in various fields, including mathematics, acting, hosting, dancing, tutoring, training, lecturing, voiceover/dubbing, and even science experiment performances.
G Selva:

A manager at Eskay Home Collections Pvt. Ltd. who has also showcased his acting skills in the film Witness (2022). Selva's talent and potential promise a bright future.
Puravalan Narayanasamy:

A veteran stage and TV actor based in Singapore, known for his exceptional work in Singaporean media and occasional appearances in Tamil movies. With over 30 years of experience, he has cultivated a substantial fan base locally and internationally.
Don't Miss Out!
If you're passionate about acting and aspire to thrive in the digital world, this workshop is the perfect opportunity. Sign up now for this engaging and enlightening 2-day acting workshop. Unleash your hidden talent, refine your skills, and embark on a fulfilling journey toward success in the acting industry. Limited slots are available, so secure your place at https://forms.gle/LADxie4enr9ukSGp6.
Avant Theatre and its talented instructors eagerly await to guide you toward a bright and promising future. Embrace this opportunity to nurture your acting talent, learn from industry professionals, and confidently ignite your acting career!