The influencer marketing industry in India has grown by leaps and bounds ever since social media platforms and outreach have become easier for brands. Thanks to smartphone technology and accessible internet and social media, businesses can easily engage with their prospective audience and deliver their brand message.
In India, influencer marketing thrives for a number of reasons. Thanks to a large user base and millions of social media influencers, it's easy for brands to target the audience. As a result, there are no language or cultural barriers as influencers can strike the right tone in helping brands deliver their message to the desired audience. 
Therefore, it is no wonder influencer marketing will be valued at INR 28 billion by 2026.
But how do you leverage the power of influencer marketing for your brand? Whether you are working with a local agency or the best influencer marketing agency in India, you need to make the most of your collaboration to get a better ROI on your marketing efforts.
This post will examine how you can leverage the power of a top influencer marketing agency India to help your brand grow exponentially.
How to Extract the Maximum Benefits from Your Influencer Marketing Agency
Making the most of an influencer marketing company involves strategic planning, effective collaboration, and careful execution. Here are some steps to help you maximize the benefits of working with such a company: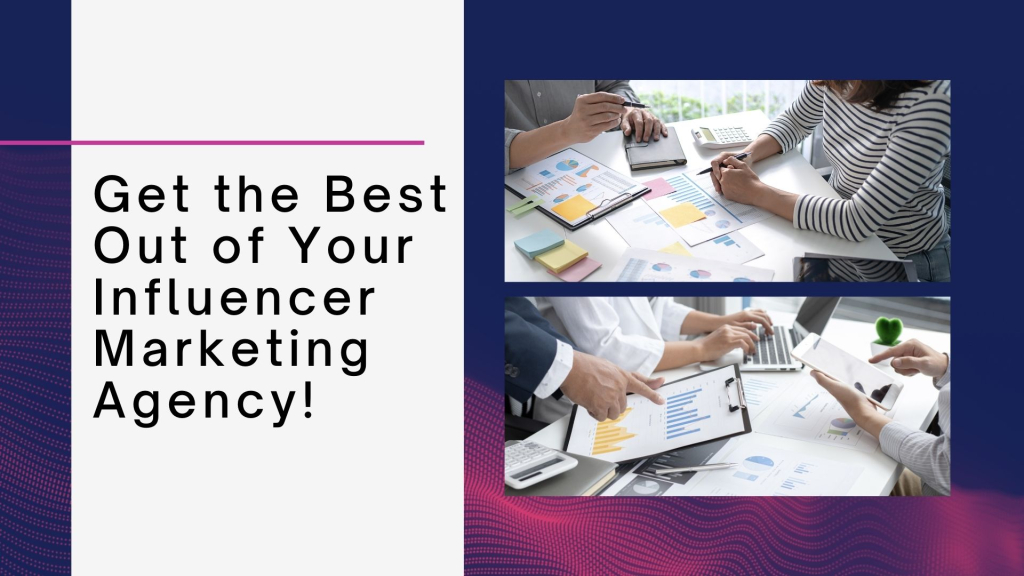 Define Your Objectives
Having clarity of your business objective is key to successful influencer marketing campaigns. 
When you clearly articulate your goals, it helps you communicate more effectively with your marketing agency. 
So, think about what you want to achieve with influencer marketing. For instance, are you looking to increase brand awareness, drive sales, promote a new product, or enhance your online presence?
Analyze Target Audience
Knowing your target audience's demographics, interests, and behaviors helps you identify the right influencers to reach and engage your audience effectively. Top influencer marketing companies typically provide demographic analytics to ensure the audience receives what they seek. 
Choose the Right Influencers
India has a versatile pool of influencers. From casual social media platforms like Facebook and Instagram to more profession-oriented platforms like LinkedIn, there is so much variation, especially regarding social media influencers.
So, once you understand your target audience, the next step is to figure out the right influencers for the job. While pick an influencer, consider the factors like:
The type of content, style, and values align with your brand. 

The influencer's follower demographics, engagement rates, and authenticity.
Effective Collaboration
Make sure to create a strong working relationship with the influencer marketing company. Regular communication is key. As a marketing manager or a business owner, you should be open to their suggestions and insights.
This is where the best influencer marketing agencies in India ensure that they not only engage the target audience but also consider their client's expectations. 
Measure Your Performance
Unmeasured marketing efforts will never yield quality and long-lasting results. Therefore, it is critical to monitor and measure your efforts regularly. Hence, it is ideal to set up key performance indicators (KPIs) to measure the success of your influencer campaigns. 
You should track engagement rates, clicks, conversions, and ROI metrics. Generally, the influencer marketing company can help you analyze these data points.
Stay In Trends
It's critical to stay up-to-date with current trends and developments in influencer marketing as the landscape constantly evolves. This can help you adapt and innovate your strategies.
It's a good idea to go for influencers trending on various social platforms. It improves the chances for your content to go viral and induce better engagement with the audience. 
Conclusion
By ensuring these simple yet effective steps, you can leverage the power of your influencer marketing campaigns and make the most of your marketing efforts. 
Contact me if you want to link up with the best influencer marketing agency in India and take your brand to new heights.